Sanskrit Chanting
For more energy, better sleep, mental clarity, stress relief and ageing gracefully.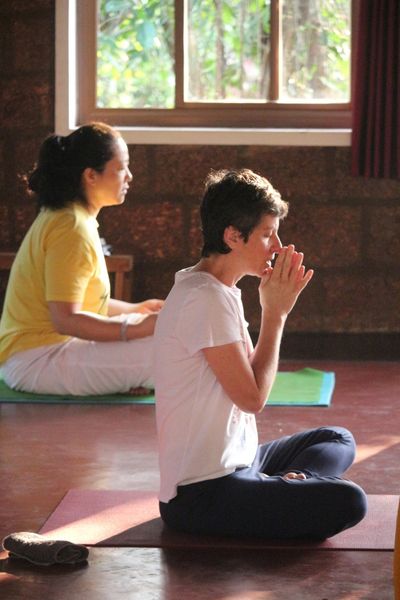 Pure Sanskrit Chanting is the easiest tool to enable the student to go within. One does not enjoy bliss, one becomes bliss – true experience of meditation.
Sanskrit Chanting is a traditional method that harmonises our energy at the deepest and subtlest level, enhancing the physical, emotional, and mental health. At the physical level, the unique Sanskrit chanting techniques strengthen respiratory organs, especially the mouth, throat and lung. It also improves facial muscles, especially the jaw and neck area. At the subtle level, Sanskrit Chanting increases vital energy in the body, and awareness of the subconscious functions of the mind.
According to Panini, a Sanskrit grammarian lived between 500 and 300 BCE, there are about 4,000 phonetic and grammar rules; and Panini's Ashtadhyayi is still the standard Sanskrit grammar book today. Sanskrit Chanting consists of pure sounds arranged in specific sound structures. Traditional Sanskrit Chanting emphases the importance of sound patterns and chanting rules. Music and rhythmicity of sound are among the few things that affect whole brain function at the same time, and Sanskrit Chanting has been shown to impact neuroplasticity and create new connections in the brain.
Enjoy the FREE downloads for self practices available in the "Books and Notes" page.
Class Structure
The private classes are 90-min each, available for on-line or in-person.
Single Session (USD 188 per 90-min class)
5-class package + 1 bonus class (USD 940, saving of USD 188)
10-class package + 2 bonus class (USD 1,880, saving of USD 376 )
Video recordings are available upon request
All prepaid packages are valid for 12 months and transferable
Please note that additional travel surcharges and studio fees may apply, if required
Interested? Join now!
+852 6571 4527 | +66 96 937 6907