Prema
(Jo Yee Yung Fung, 馮亦蓉)
Author, Energy Healer, Yoga and Meditation Teacher, and Wellbeing Consultant
Prema Living was born out of the desire to walk-the-talk on my own Yoga journey, and to be supportive and caring for students of all abilities to explore and enjoy abundance, physical and mental health.
My personal yoga journey started with chronic back pain from a sport injury in my mid-thirties. The pain was further agitated by peri-menopause symptoms and work stresses. Today, in my early 50s, with a regular practice of Yoga and Meditation, I had lost weight, gained physical strength and mobility, increased energy, and improved digestive health. To find out more about my journey from a burn-out workaholic engineer to a yoga teacher, check out those podcast and interviews.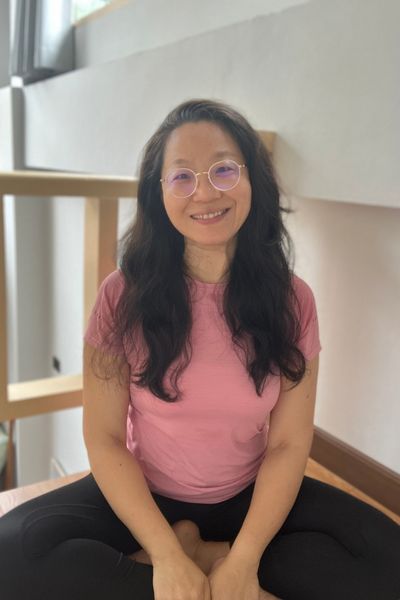 For the last 20 years the more I practice Yoga and Meditation, the better my judgement, the stronger my body and the happier my mind. I am convinced that the benefit goes much deeper than physical and mental health.
Prior to being a Yoga and Meditation Teacher, I hold a Master of Engineering Degree in Transportation, with over 20 years of planning, engineering, project management and strategic planning experience in both public and private sectors in Canada, US, the Middle East, Asia and the Pacific. My last corporate role was the Chief of Sustainable Transport Section at the United Nations Economic and Social Commission for Asia and the Pacific.
I will work with you to design your personalized roadmap that will include a personalized goal, a learning agenda and an action plan at the beginning of your practices, so that you are more likely to reach your objectives with a sustainable outcome.
My unique Yoga and Meditation teaching style is a combination of 20 years of working with international multi-disciplinary teams, and trainings of traditional Yoga and Vedanta teachings in India.
Yoga Teacher Trainings (200 hrs)
Advanced Yoga Teacher Trainings (300 hrs)
Yoga Sutras Intensive Level 2 (300 hrs)
Hormone Yoga (50 hrs)
Certified Reiki practitioner (Level 2)