Prema Living YouTube Channel
Better Health – Group Class Recordings
Group Class – Nov 2022
Busy Middle Age,
Parent and Business Owner Lifestyle Juicery
Growth Mindsets, Daily Activities, Teamwork
Over forty Wellness
Introduction to Hatha Yoga in English
Introduction to Hormone Yoga in English
Introduction to Hatha Yoga in Chinese
Introduction to Hormone Yoga in Chinese
Over Forty Wellness Podcast
Vincent Hiscox, wellness coach and podcaster, reveals the strategies for you to take control of your Health and Wellness into your 40s and beyond. At each episode, Vincent discusses a variety of topics with experts in the Health and Wellness Community, and you could learn at least one practical advice with tried and tested techniques so you could look and feel better. Taking care of yourself shouldn't be complicated.
A quick soundbite is available below. For the full interview (01:00:35) check out the Episode 79 with Prema.
03:43 Came to HK twice to live
05:43 Most people that need help go to Ashram
13:22 A 4 start hotel with discipline of an Ashram
15:33 Yoga Sutras for Busy Minds
28:13 Mango example
44:24 You have to be flexible
44:53 Super Brain Yoga
55:25 We will live in a happier world if everyone know that they are good enough as it is
Other Wellness Podcasts at the Over Forty Podcast are available on Apple Podcasts, Spotify and Google Podcasts.
You might also be interested in Vincent's Wellness Newsletter for more wellness information.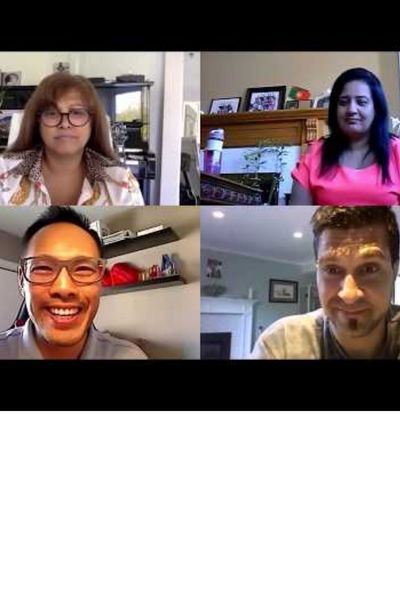 The Healthy Way Vibes
The Healthy Way Vibes is an online discussion platform of four friends who have come together to share their passion for health and living life with abundance. Discussions include everything from boosting your immune system to gardening tips, cooking, and everything in between.
Here is an interview of the Heathy Way Vibes team with Prema on her journey from engineering to yoga.