Hormone Yoga
For stronger body, flexible limbs, better digestion, healthy weight and ageing gracefully.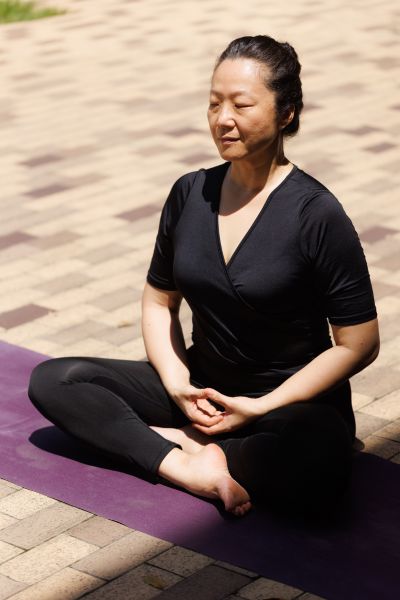 Hormone Yoga is a holistic wellness approach that works on the entire body, with a focus on re-activating and re-balancing specific hormones, based on the interactions and feedback between the Hypothalamus, the Pituitary gland and other glands.
Hormone is a natural chemical substance that our body produces to regulate most bodily functions. It is highly influenced by the food that we consume, how we respond to stress and our lifestyles. For a healthy individual, our hormones start to be out of balance after the age of 40 for men and 35 for women; and the most common symptoms are menopause and andropause.
Specific asanas and breathing techniques are designed to improve metabolism, harmonise the nervous systems, improve spinal cord flexibility, and improve digestion. It tones various hard-to-get-to muscles and organs, especially the brain, reproductive organs and pelvic floor muscles. It improves energy flow and activates various glands, increases the chances of fertility in younger men and women, as well as lessens the chances of osteoporosis, cardio-vascular diseases and diabetes for mature adults.
As we get older, the health of our pelvic floor muscle and sexual functions are often overlooked. People tend to be shy in discussing health concerns such as prostate swelling, vaginal prolapse, low sex drive and incontinence. Hormone Yoga activates the energy and muscles in and around our reproductive organs and pelvic floor muscles.
We could restore the natural balance of Hormones with nurturing food, understanding our minds, gentle and restorative movements, and cultivate lifestyles that match the natural rhythms of our body and our environment.
Let us start by having a preliminary assessment of our symptoms that might indicate hormone imbalance.
YouTube video Hormone Yoga English
YouTube video Hormone Yoga Chinese
Class Structure
Introduction private classes are 45-min each:
Single 45-min Session (USD 98)
5×45-min class package + 1 bonus class (USD 490, saving of USD 98)
Regular private classes are 90-min each:
Single 90-min Session (USD 188)
5×90-min class package + 1 bonus class (USD 940, saving of USD 188)
10×90-min class package + 3 bonus class (USD 1,880, saving of USD 564 )
Video recordings are available upon request
All prepaid packages are valid for 12 months and transferable
Please note that additional travel surcharges and studio fees may apply, if required
Interested? Join now!
+852 6571 4527 | +66 96 937 6907